Cars Bikes Boats.com - The Hans Derocher Company, Inc. - Cars, Bikes & Boats
Classic Cars, Trucks and Harley Davidson Motorcycles for sale in Austin, Texas - Unusual, Original Cars, Bikes and Boats. Muscle Cars, Motorcycles and Hot Rods

1957 Chevrolet 2DHT Sport Coupe 2 DHT Sport Coupe - 1957 Chevrolet Belair 2dht Sport Coupe. 62,234 actual miles. This car has been the favorite of a collector since the sixties. I purchased it from his reluctant to sell family after he passed away. It has a 69 4 bolt main 350 with 3 dueces and a four speed. It is a joy to drive and takes me right back to high school every time I slide behind the wheel...........It is a nearly rust free California built car, (the L in the VIN signifies Los Angeles), It has the seamless frame and the one piece front bumper. I just had it up on the hoist and looked it over real well as I changed all the fluids and drained the old nasty gas out it. It's as solid as they get. It is sporting 40+ year old lacquer paint in the original Onyx black that still looks excellent, not perfect, but very presentable. It shines like a new penny. It has factory power windows that work great, The only thing that does not work is the radio, which does hum, so maybe it just doesn't know the words........... It has factory fender skirts as well as "50's cruiser skirts" that go from the bumper to the door and all the way up to the chrome. They are so ugly, I couldn't even tow the poor thing home with them on. I could see the car breath a sigh of relief when I took them off. It also has a Continental Kit which may not stay on the car if it hangs around here long. I think that if you want a Lincoln, you should buy a lincoln, but that is just my opinion........It will probably also be sporting A/C and power disk brakes if it doesn't find a home soon, which wouldn't break my heart........This car will only go up in value just as 57 Sport Coupes have been doing steadily for the last 30 years and is fairly priced at $29,900 before I add a/c or power disk brakes.......

Too late, It is off to Kingsland for a nice retirement in the Highland Lakes area, but I just got in a beautiful turqouise Sport Coupe with a factory overdrive fresh from the Central Texas Museum of Transportation.......... $29,900

1997 JLG 40H - 1997 JLG 40H 40' Boomlift with duetz diesel and low hours in excellent working condition. I have owned this lift for several years and have put several hundred hours on it with no problems. It has been serviced regularly and works great. It sure is handy to have around the house but a bit too expensive to keep around for changing light bulbs and trimming trees.......... $10,900

1932 Plymouth PA 3 Window Rumble Seat Coupe 3 window coupe - 1932 Plymouth PA 3 window Coupe. 100% rust and accident free, California since new, original car with a sad story...... I just love cars with a story.... This Coupe was owned by the original owner and then his neice until last year when she sold it to some yo-yo that was going to hotrod it, (after promising her he wouldn't so she would sell him the car), He sold the headlights, bumpers, and dash panel, yanked the original upholstery out, then lost interest in the project and sold the whole car, so here it sits, a pristine original car that needs a few parts located and put back to original, or finish knocking it in the head and hotrod it. You just can't leave it laying there bleeding and suffering..........It would probably take very little to have it running and driving. I am slowly accumulating the missing original parts for it. Most of the original upholstery is there for patterns. This would make a very nice hotrod, and you'd have something other than just another Ford, but it would be sad to see such an original car go that way.... Call me for details 512-784-3659 UPDATE Too late again, This cherry PA Coupe is off to Rhode Island where Frank is going to make it his pride and joy, and I am happy to say it will be going back to it's former 1932 glory $11,900

1931 Plymouth Model U Roadster Roadster - 1931 Plymouth CU Roadster. Barn Fresh. I haven't even washed the dust off, besides that would remove the raccoon tracks on the fenders which adds a certain amount of patina to it... This is a farly complete and original rare roadster in need of restoration. It runs and yard drives. It has the original top and side curtains, the body is a bit rough and has a bit of rust, but is quite restorable. The lines of this car are some of the best of the small early thirties roadsters. starts and runs good. I hate to say it, but it would sure make a sweet hotrod...and I do just happen to have an old Red Ram Hemi on the shelf.................Too late, It is off accross the Atlantic to Italy with Matteo. I hope I can take a world tour some day and go see all of my old cars all over the world......... $8,900

1965 Sunbeam Tiger SunbeamTiger - 1965 Sunbeam Tiger 260 V-8 4speed complete original car some rust needing restored. I also have a complete rust free Southern California Alpine available. Too late on both. Greg from right here in Austin will be vintage racing with this Tiger after a little resoration work...... $12,900

1932 Plymouth PB 3 Window Coupe PB Coupe - 1932 Plymouth PB Rumble seat Coupe Rust free original car. I used to drive this car regularly until it took up smoking. I have pleaded with it to stop, but it won't, so I guess it will need some new rings, or a V-8................ and it's probably going to get a V-8 and other updates from Harold, the new owner, I still have one more 32 PB Coupe left................

1933 Chrysler CT Rumbleseat Coupe - 1933 Chrysler CT Rumbleseat Coupe. One of 1033 built in 1933. How many do you suppose still exist? This is a rock solid car that has had a proffesional restoration done 10 years ago which cost over 75K. It has been driven a little over 6K miles since. It is powered by a 440 Magnum, 727 auto, It has power windows, seats, power steering, power brakes, power glass sunroof, power mirrors, ice cold a/c, leather interior, Stainless steel front suspension, 4 wheel disk brakes, powder coated red wire wheels with wide whitewall radials and original hub caps. The paint is high quality and still looks great, but does have a few minor chips here and there. This is a beautiful car with very graceful lines and is an all steel construction car. It is ready to drive anywhere. Park this beside a 33 Ford, and nobody would even notice the Ford...besides, you can put a dime in a gumball machine and get a 33 Ford, and it would probably have a Chevy motor in it.............The rod run here in Austin last week had, I don't know how many cars, all pre 1963, and I did not see one Chrysler, just a couple of Plymouths and Dodges, I did notice what seemed like a few million Fords with Chevy motors........and one 1932 Chevrolet with a Ford motor, bless that car owners heart.........and a handful of other out of the ordinary cars. This car would have been at the top of the list had it been there...........I sold a 33 Chrysler CQ Coupe several years ago for $33,900, (the maroon car on the home page), and while a bit more rare, it wasn't anywhere near the car this one is, In fact the gentleman that bought it was taking it home to take it apart and redo it, with a Mopar drivetrain instead of the Chevy drivetrain that it had. This car is a great investment that you can really enjoy driving. I have just drastically reduced the price on this beautiful Coupe as I have a house in Florida to pay for........ $36,900

1979 AMC AMX 2dr coupe - 1979 AMC AMX with 2,182 actual one owner miles, and of course a story... When was the last time you saw a 79 AMX?? Back in the day, you could put a dime in a gumball machine and get a Camaro or Mustang, but you seldom saw one of these little Hot Rods, and with its 304 V-8 and four speed, it was about as peppy a ride as you could buy in 1979. This car was given to a young man as a graduation present. He passed away shortly afterwards and the family kept the car covered in a heated garage for the next 28 years. His dad and brother pulled it out and waxed it, armour-alled the tires,(including the backside and the tread), and drove it around the block a few times over the years. It is literally a new car. I have had low mileage cars before, but never one as untouched as this one. It has never been rained on. The paint hasn't been all polished off, the decals are bright and shiny, the interior still has a new smell. The origional white lettered tires are still like new and not cracked. It still has the glue on the window from the window sticker, which is still with it along with all of the original paperwork from new, ($6,812 out the door). It is still sporting it's last inspection sticker from 1981 with 1872 miles showing. I installed a new battery and fuel pump, fresh gas, changed all of the fluids, and it runs and drives like a new 1979 AMX. It needs to find a good home, preferably a museum where it could be enjoyed by many. Too Late again, SOLD, and It is off to Alberta Canada with Hienz who coincidently bought one just like this off the showroom floor in 1979. $15,900

1967 Sunbeam Tiger Roadster - 1967 Sunbeam Tiger. I just love these cars. I think they are currently very undervalued, and they have nowhere to go but up. They are just such a neat little factory built hot rod that is a lot of fun to drive. Carroll Shelby said that he would rather have a Sunbeam Tiger for a daily driver than a Cobra... That says something. This is a very nice original car that has been totally redone a few years ago with lots of documentation, receipts, and pictures. It was a very solid straight car to begin with with no rust or major damage issues. It is ready to drive anywhere, and a very good investment at $29900. $29,900

1955 Ford Thunderbird Roadster - 1955 T-Bird Roadster, This is a very nice driving car that looks like a million bucks from 20 feet. The paint was done in 1972 at a cost of $144 plus $27 for materials. This reciept along with hundreds more going back to the sixties come with the car. The paint is far from perfect, but looks great from a distance and shines nicely. I bought this car from a gentleman that aquired it from an 84 year old gentleman in Nevada where it had spent most of it's life. Prior to that it was in Southern California. He had owned it since the late sixties and has every reciept for all of those years. This car has never had a hint of rust anywhere, having spent it's life in the dry Southwest. It has, however, had the drivers fender and door replaced with used parts, probably over 40 years ago, and they could use a little work to be perfect. The motor was rebuilt about 20K miles ago and just purrs like only an old Ford Y-block can. The 3 speed overdrive works very nicely also. This is not a show car, but a car that you could drive every day. It cruises down the highway 70 mph+ effortlessly with the overdrive, and is a pure joy to drive. I love the sound of the dual exhaust coming out of the bumper right behind your ear. Everything works as it should. This car can be enjoyed like it is or would be a great candidate for a high dollar restoration, or just a paint job. $19900 and you can drive it home no matter where you live. I'll pick you up at the airport. $18,900

1932 Plymouth PB 3 Window Coupe Business Coupe - 1932 Plymouth PB Business Coupe. Original car, runs good, Yard drives, According to the last inspection sticker from 1975, It has only been driven 66 miles since, and the speedo works so I believe it. The brakes definately need gone through before any major trips, and I am running it on a gas can as it of course has fuel line/ tank issues. It has a new fuel pump that works fine. Someone has flipped the manifolds upside down and put a downdraft carb on it, lost a few styling points, but it sure runs good........ I have plenty of original carbs around if it offends anyone..... The body is very solid with some rust in the lower areas and the fenders have scraped a garage door or two, but are quite fixable. The interior is gold crushed velvet, need I say anymore............But at least the seat is the original seat... The running boards are not original, but the average Joe would not know..... I am tired of typing so call me for an, as always, honest description of the car at 512-784-3659. These PB's are getting hard to find in any condition, and this one's not bad, complete, running and priced right at $15900. I will also sell just the body or without drivetrain, interior, and any other parts that you would not need to hot rod it if that was your plan..............Call and let me know what you want. I would like to put this motor in the yellow PB......., Sold, Too late, Charlie came and cleaned me out. It's off to Huntsville with Charlie along with that 54 Pontiac Hot Rod and the 52 Plymouth Belvedere, and I will miss them all. This car could sit for a year, give it a shot of gas and away it would go. It was always in a good mood. I have a bunch of 32 PB motor parts that I would like to find a good home for. I will just about give them away to someone that needs them. Call me if you are that special someone. $17,900

1932 Plymouth PB Convertible Coupe PB Cabriolet Coupe - 1932 Plymouth Model PB Rumbleseat Cabriolet Coupe with dual sidemounts. This is one of 4853 cars built. Who knows how many are left. It is a 100% rust free, never hit car that looks to have been redone years ago and still looks great. The paint is far from perfect but looks great from 10 feet. It is a nice driver quality car. I don't have any history on the car other than it was in a collection for years, and the collector died, then a high end hotrodder with upstanding morals bought it and he just didn't have the heart to rod such a rare and original car, so that's where I came in. This car is not cheap and it's not going to get any less expensive. I will be raising the price on it as the market dictates. Too late, It's gone to Lima, Peru with Dave and he love's it. I do still have that 27 Chrysler Roadster available and it is a whole lot cheaper, some assembly required........

1996 American Eagle 39AF - This was the flagship of the fleetwood line in 1996, to get a nicer bus than this, you would have to get a Prevost. It has the 8.3 liter Cummins with 300 horsepower, and the 6 speed Allison automatic,and an 8K diesel generator with only 476 hours. It runs and rides down the road very nicely with plenty of power. It has automatic adjusting air ride suspension, automatic leveling jacks, back up camara, tons of storage with several slide outs, beautiful walnut cabinets and white leather couches, side by side frig, icemaker, built in blender, and ice crusher, satelite tv, hidden safe, solid fiberglass roof, double pane insulated windows, and about anything else that you would expect an upper end coach like this to have. I bought this coach from an insurance company with minor damage from a small fire on the generator. I replaced the shorted wiring on the generator and repaired some minor fire damage under the hood, replaced the windshields, completly serviced everything, It is ready to go with new rear tires and 90% tread on the fronts. It does have a reconditioned title. My wife and I took it to Port Aransas over the weekend, and it performed flawlessly. I bought this coach and repaired it with the intentions of keeping it and using it, but we have bought a house in Florida, and will not have time to use both. I will deliver it anywhere for expenses. I also have an 06 Jeep Wrangler Unlimited that I have set up to pull behind it. I also have a motorcycle lift available. Call me for a full description on this beautiful coach at 512-784-3659 We just returned from a trip to Key West with this coach, and it performed flawlessly. The only problem we had on the entire trip was a flat tire on the Jeep from running over something. This is a very nice coach that is ready to go anywhere. The price has been lowered as we have bought a waterfront home in Florida and will probably be spending most of our spare time there. We have since taken it to Iowa, then to the drag boat races in Marble Falls where the generator ran for 3 days straight so it has a few more hours on it now, This is a very nice Coach ready to go anywhere in comfort. We just returned from our second trip to Iowa in this coach and it once again performed flawlessly. It also is now sporting a new set of Michelins on the front as the previous tires were kinda like me, they looked great and worked just fine, but they were a bit on the old side. Too late, SOLD, Bryan a deal when he saw it. $32,900

1966 Sunbeam Tiger - 1966 Sunbeam Tiger. I have had this car for quite a while, but haven't put it on the website until now because I really didn't want to part with it very badly. I still don't, but oh well....... These Tigers are getting harder to find and far more expensive to buy all the time. This Tiger has been parked since 1992 so I would say it would be a good cadidate for a complete restoration, or you would at least need to go through the brakes and fuel system before it would be drivable. It currently has a HiPo 289 in it but it is being offered with the original 260 motor. I will sell it with both motors for $15900. I have started the motor, (after removing the dist and running the oil pump), and it has no rattles or knocks, but appears to have some valves sticking. I borrowed the carb from my nephew so it does not go with the car. It currently has headers, but I have a pair of original exhaust manifolds for it. It has a couple of small rust spots in the trunk and floor, but I have a complete rust free trunk floor that goes with it, so you can patch or replace. It is not a rusty car as it has been in Texas since at least 1974 when the current clear Texas title was issued. I will make a great package deal on all of my Sunbeams if you are interested. They don't take up much space........... 512-784-3659 Too late, This Tiger is on it's way to Alsdorf, Germany where Herbert is going to make it look like new again. That is 3 of the last 4 cars that I have sold that have gone overseas. I hope they come back someday....... maybe when a dollar is worth something again......... $14,900

1917 Dodge Rat Rod, Hot Rod, Phaeton - 1917 Dodge Phaeton Touring Car, Rat Rod material, All I have is the body and three doors, What's there is not in bad shape for being almost a hundred years old. The early Dodge has a lot more leg room than a Model T, and would make a great Rat Rod, I don't think she'll ever make it back to her original glory. $1,295

1957 Chevrolet Belair 2 Door Hardtop Sport Coupe 2 Door Hardtop - 57 Chevrolet Belair 2 Door Hardtop Sport Coupe, red with a non matching red leather interior, cammed up 350, turbo 350 automatic, 605 power steering, power disc brakes, Corvette Rally wheels, runs and drives excellent. I flew to Wisconsin and drove this car back to Austin with a brief stop in Iowa to relive a little bit of my childhood. It was just like high school cruising mainstreet in a 57 Chevy. It is a very nice driving 57 that I would not hesitate to drive anywhere. It is not a perfect car, but it's not priced like a perfect car. If it stays here very long, it will probably get an original interior, a 4 speed and a/c and get more expensive. OK, I have a new love with a manual overdrive transmission, so I have lowered the price. This is a lot of 57 Sport Coupe for not a lot of money.........Too Late for this one, but for just a few more dollars you can still have the turquiose Hardtop with an overdrive. This 57 is on it's way to Sweden to join that Merc S-55 I sent over there a few years ago. I hope Pihl enjoys driving this Sport Coupe around Sweden as much as I have enjoyed driving from Wi to Tx and around here. It has arrived at it's new home in Sweden to another very happy customer from far far away. $24,900

1956 Ford F-100 Shortbed Pickup - ..........56 Ford F-100, Arguably the best looking pickup truck ever built, This is a mostly original, rust free California truck with 83K miles. It had the original 272 V-8 and a 3 speed Overdrive Transmission. It was completly redone about ten years ago and never driven. I flew to San Luis Obispo California on July 5th and drove this truck back to Austin taking Route 66 most of the way. It was a beautiful 1596 mile trip, the truck never missed a lick, even through 115 degree heat in Death Valley driving 75-80mph all the way. After getting it home, I promptly installed all new a/c, new Power Steering, and new Power Disk Brakes, a new set of wheels and tires, new chrome bumpers and grill, new hood emblems, new rams horn maniflods and new dual exhaust, new 4V carb and manifold, new rear brakes and wheel bearings, freshly rebuilt original overdrive trans This is a very nice 56 F-100 that was a nice driving truck before, but is a real joy to drive now with the new creature comforts. I have made a few tasteful modifications, while keeping it pretty much original, and making it beautiful and fun to drive without butchering it up like so many of these 56's have been. I don't care if I never sell this one, because I would just have to start building another one just like it............. The price on this one will continue to go up ................ I also just got back from the amazing time capsule called Taylor Auto Salvage in Alliance Nebraska where I spent a couple of days wondering around his 1500 or so old cars like a kid in a candy store with just one shiny dime, and came home with a nice 312 from an old Merc and a 370 rearend from a 57 Ford which will eventually be freshened up and find their way into this truck, which will of course drive the price up even further........... Well, I have been driving this truck daily for a while now and it now has 89K miles, and I think my ex wife might have been right, I shouldn't sell this one........but then what do ex wives know......... Update; And it now has a fresh warmed up 57 Thunderbird 312 under the reverse flip hood, and a rebuilt Saginaw 4 speed with Overdrive, new Hurst shifter, new desert cooler 4 row radiator, and a fresh 3:70 rearend. This is really a nice driver now and the price has gone up again. $36,900

1927 Chrysler Model 50 Roadster Model 50 Roadster - 1927 Chrysler Model 50 Roadster. Some assembly required. This is a very solid rust free, complete Roadster that currently has the body taken apart. The pictures of it in one piece are from 2007. It was a running and driving car for years with a slant 6 automatic when the previous owner decided to take it apart and replace some rotted wood. Taking it apart is as far as he made it. The body,fenders, running boards, frame, bumpers, radiator, etc has not been butchered and is all in very good shape. A lot of the wood is bad and these cars had a lot of wood. It could be put back to original, but it would be a lot more fun and easier to make it a hot rod and replace the wood with steel. These bodies are very simple and there are not very many parts so it is not that intimidating to start with it all apart. It is still in my car trailer, so I would make a good deal on delivery so I wouldn't have to unload it. I also have a couple of Dodge Red Ram Hemis avalable that would look a lot better than that slant 6......... This Roadster is priced less than a fiberglass kit car, and you would have a fairly rare and desireable car worth something when you were done $6,900

1956 Ford F-600 Cabover - 1956 Ford F-600 Cabover truck, These are getting to be very hard to find in any condition. This one has it's share of bumps and bruises, and a little rust, It would sure make a very unique and rare car hauler, dually pickup, flatbed, ratrod, use your imagination........ It is priced to sell at $2995. Call today, don't delay 512-784-3659, And you're too late again, Glen from Houston needed something to do with his spare time, and I can't think of anything better for that than this project. And this will be just the ticket to bully your way through that Houston traffic....... $2,995

1957 Chevrolet Belair 2DHT Sport Coupe Belair 2DHT Sport Coupe - 1957 Chevrolet Belair 2 Door Hardtop Sport Coupe, fresh from the Central Texas Museum of Transportation where it has been on rotational display for years. This car is a joy to drive and about as much fun to just sit and look at. You can't get more 1950's than Turquiose and white with a turquiose and black interior, and there is no interior more beautiful than a 57 Belair interior in any color, but especially turquiose. My Ole buddy Rick drove a turquiose 57 Chevy in High School until it was ruined by a telephone pole out by the Redwood, but that's another story............. This is a very original rust free car with 1965 327 V-8 and the hard to come by factory overdrive transmission that works great. It idles down the highway at 70mph. It is freshly serviced and ready to drive anywhere. And it now has a newly rebuilt original power steering system, new clutch, and a borrowed set of Corvette rally wheels with T/A radials, as I am just not a wide whitewall kinda guy, but the car comes with the original wheels, wide whitewalls and hubcaps............57 Belair 2Door Hardtop, Better than money in the bank, and definately a lot more fun. If a buyer was interested, I would install a/c and power brakes on this car very reasonable. TOO LATE, It is now in the stable with Mike and Ruthie's other 57 Chevy's, and GMC, and Bronco, and GN, and scooters, and who knows what all else. I can't wait to see this beauty when it is upgraded to Mike's standards....... $28,995

1957 Ford Fairlane Fairlane 500 Victoria 2DHT - 1957 Ford Fairlane 500 Victoria 2 Door Hardtop, fresh from the Central Texas Museum of Transportation collection, 300 Horsepower 352 4BBL Interceptor Motor, C-6 automatic, power steering and best of all, Ice Cold A/C. This Victoria runs and drives great, Just been serviced and It can be driven anywhere. And here is a little trivia for ya. There where over 70,000 more 57 Chevrolet 2dht's built than Ford 2dht's in 1957..............Have you driven a Ford lately??? SOLD, Well, you won't be driving this Vicky because John in Western Australia is the proud new owner of this Hot Rod. He knew a deal when he saw one. I hope I get to go to Australia someday and visit all of my old vehicles and meet the very fun sounding new owners of them...... $10,900

1954 Pontiac Catalina Star Cheif 2DHT - 54 Pontiac Catalina Star Cheif, Top of the line Pontiac for 1954. Chrome, chrome, chrome, This car was owned by the same family since 1957. The son inherited it in the 70's and installed a 64 421 4speed and bucket seats, probably all from a Grand Prix or Bonneville? It needs some sorting and details, but is a very solid nearly rust free car with a pretty special motor and trans. You would likely have the only one anywhere you went..........SOLD Too late again, This old hot rod will be in good company with the rest of Charlie's collection in Huntsville along with my last 32 PB Coupe and a 52 Belvedere Hardtop. $6,900

1964 Ford Falcon Sprint 2Door Hardtop - 1964 Ford Falcon Sprint 2Door Hardtop, 289-4V, V-8 4 Speed, just like the one my big brother had in high school, except without the rust. This is a very original unmolested car with a nice new set of torque thrust mags and TA Radials, new flowmaster exhaust so it sounds great too. It appears to have one repaint in the original rangoon red, with original paint in the door jambs, and trunk. It has had the left front fender and apron replaced years ago. It really needs painted, but it would not take much effort to paint it as it is very straight and rust free, except the right front floor pan has some perforation from an apperently previously leaking heater core and a small spot on the rear tailpan behind the bumper. You can put a dime in a gumball machine and get a Mustang, but you don't see a Falcon Sprint everyday, especially with a four speed. It is one of 13830 Falcon Sprint hardtops made in 1964. This car can be driven anywhere your heart desires and is priced to sell at $12,900.
And sell it did, and it could not have found a better home. I sold it too cheap just because it is going to a winderful new home after it gets the top notch restoration that it deserves. I just love to see an original car like this find a wonderful home. I can't devulge any of the details as this Sprint is going on a top secret mission just as soon as it goes through the top notch restoration that it deserves...........Keep an eye on the website if you are looking for a Sprint as I always have my good eye out for a good Sprint. $14,900

1957 Chevrolet Nomad Nomad - 57 Chevrolet Nomad, Original colors are Colonial Cream, (yellow) and white with a yellow and black interior. Currently in primer. 350, turbo 350, I just got it in and have some sorting to do. Call me if you just can't wait. Well, Ive done a little sorting. The 350 is actually a 305 4V and a tired one at that. I rebuilt the Q-jet and installed new wheel cylinders and master cylinder so it is now movable. All of the inside and outside trim is there and in good shape, both bumpers are straight, front is a 1 piece California bumper. The car has minimal rust, is very straight, and wouldn't take a whole lot of work to be ready to paint. This would also be a prime candidate for a high dollar total restoration, or it could be a very nice cruiser using the existing interior, with just a paint job and a fresh motor. and I am going to get started on it.... right after I get the station wagon done, and my 67 Mustang GT Fastback restored, and the 27 Chrysler Roadster back on the road, and get that 312, overdrive, and 3.70 rearend in the 56, and oh yea, a/c on the 57 hardtop, and oh yea, the 59 Powerpack Motor and 4 Speed in the 52.................Help me out here. Buy something...... Too Late, SOLD, David knew a deal when saw it, and this Nomad is staying right here in Oak Hill. Can't wait to see it on cruise nights all shined up. $21,900

1952 Chevrolet BelAir Deluxe 2Door Hardtop Belair Deluxe 2DHT - 1952 Chevrolet Bel Air Deluxe 2 Door Hardtop. Just like the one I had in high school except without the Corvette motor or the rust....... Fresh from the Tucson Desert where it has spent it's entire life. This is the best original Early Chevrolet hardtop that I have seen in quite some time. It was sporting all of it's original interior, tattered as it was, and the jambs and trunk are still original paint, which was Regal maroon with an onyx black top. It has had one repaint long long ago in what appears to be 57 Belair Dusk Pearl. It has worn down to a very nice patina. I like it just the way it is and I probably wouldn't paint it, after all, I never got around to painting the one I had in high school. I was rat rodding before rat rodding was cool.......not that I wanted to be a rat rodder, I just couldn't afford gas, beer, And paint, something had to give. This car runs and drives like a new 52 Chevy. Everything underneath is very clean as is typical for a desert car. It has fender skirts,the original wheels with nicely faded original paint and pinstriping, hubcaps, and trim rings with wide whitewalls, I am just not a fenderskirt/wide whitewall kinda guy so I have put a set of Corvette Rally Wheels on it with new T/A radials. These early Hardtops are getting quite hard to find in this condition. I'm afraid it really wants to hook up with that 59 283 powerpack motor and T-10 4 Speed over in the corner of the shop...... I just have a very hard time bringing myself to modify a car that has stayed intact for 59 years.. But that would more than double the horsepower.....Hmmmm..... Well, it has been my daily driver now for the last few months and I love this car.
Update; The complete original drivetrain has been replaced with an L-98 Corvette motor, an old school 4 speed overdrive, and a 57 Ford 9 inch rearend, pwer disk brakes, etc. The price on this old girl is going up. It runs and drives like a million bucks now, and it would take a lot of typing to explain everything that has been done in the process..... Wow, This old girl is really fun now. Any guilt I felt about changing out that original drivetrain quickly dissapeared with the first testdrive. It now has a new yellow and black 57 Belair style interior that is very top notch, so the price went up again. $25,900

1936 Dodge Half Ton Short Bed Pickup Truck Pickup truck - 1936 Dodge Pickup, Complete, very little rust, This would be a prime candidtate to build a quality rat rod truck, or it is good enough to be made into a very nice finished Hotrod as well, or you could find a good Mopar 6 cyl motor and put it back to original. They are plentiful enough. The possibilities are endless. It is pretty complete, missing the tailgate, been sitting for many years, It appears that with a wee bit of whittling, a little Red Ram Hemi just might fit in there............ Too late, Sold, It is off to Wisconsin with Mike to be made into a cheese hauler I guess.......... $5,450

1955 GMC Big Window Short Bed - 1955 GMC half ton shortbed big window V-8 3 speed manual with 57K original miles. This was the 421st second series 55 GMC built, with the 317th Pontiac 388 motor built. This is a very early production truck. Complete original Unmolested truck right down to the wingnut on the oil bath air cleaner on the factory Pontiac 388 V-8 motor, which is probably stuck (NOT),as it has been sitting since the sixties, which is how the miles stayed so low. I have always had a thing for these Old Jimmys with their humongous chrome front end. These original unmolested 55-56 GMC big window shortbed trucks that are getting pretty hard to find. They have always been popular among the hotrodders and customizers, even when they were new. I bought this truck from a gentleman in Kimbalton Iowa that worked at the local GMC Pontiac dealer back in the fifties and remembers servicing this truck when it was new. He has owned it since the sixties. It still has the original key in the ignition with the knockout intact. It was bought new by the owner of the local gas station in Exira, Iowa, and has 57K original one owner miles. It is in surprisingly good shape considering it has been sitting mostly outside for over 40 years.It needs front fenders, cab corners and steps,and a few other small rust repairs. It is very straight, and appears to be 100% original paint, or whats left of the original paint. Replacement body parts are readily available new and not very expensive either. The door hinge areas are good, and that is the worst area to repair rust on these trucks. The massive, beautiful, Caddillac like GMC grill is complete and straight except for a dent in the upper eybrow piece, and I am on the hunt for one of those. Well we are back from Pa's 95th,and the Jimmy has made it's way back to Austin, so I will be sorting it out in the near future and post more info, and maybe raise the price, or maybe lower the price...........10/1/11 Update. and raise the price it is, because with just a little encouragement this old girl is now running like a new one, , I drove it around the yard and over to the shed from the shop under it's own power to await a new owner or further attention like brakes, whichever comes first....... And a new owner came first. It is off to Timersdala Sweden with Ulf for a new lease on life. I'll bet you don't see one of these every day in Sweden......... $4,750

1964 Ford F-100 Deluxe - 1964 Ford F100 Short Wide bed, Just like the one Pa had that I rolled when I was 15 on a country road in Iowa. Except this one is a deluxe model with a Custom cab, Factory Black with a red interior Original 292 V-8 freshly rebuilt 4 speed Borg Warner T10 manual with a brand spankin new Hurst shifter, 3:25 Positraction rearend, 91688 miles, Very original, 100% rust free, straight, unmolested truck. 1964 was the last year for the Y Block V-8, last year for the straight axle, and is definately the best year for the 61-66 body style truck, and they just don't come much better than this one. I bought this truck in Georgia and drove it back to Austin, 1121 miles, It has since received all new brakes, wheel bearings, carb overhaul, new clutch, and if it sticks around a while, it will probably get a T10 four speed new wheels and tires, and maybe power steering and dual exhaust, all of which will cause a price increase........OK, It stuck around a while so It now has a freshly rebuilt T10 close ratio four speed, brand new Hurst shifter, (with functional backup lights I might add) new T/A radials and new Corvette Rally wheels, new steering wheel, turn signal switch, original radio converted to Am/FM/MP3, Completely serviced and ready to drive anywhere. This is the very best Early 60's F100 that I have ever come across and I have had a bunch of these trucks It is even more fun to drive with the four speed. I have been driving it the last few weeks, the more I drive it, the more I like it. Leonard is redoing the seat as you read this in black and red 57 Belair cloud pattern materials. It will be beautiful like the rest of this truck. You could look high and low and not find a better 64 F100 at any price. I just bought a nice pair of rust free Black Plate California trucks, a 64 Shortbed and a 63 Shortbed Unibody, that will be here in a couple of weeks. They will be much less expensive than Blackie, but then they aren't Blackie......... Call me for details if you just can't wait......... $21,995

1958 Plymouth Belvedere 2 Door Hardtop - 1958 Plymouth Belvedere, not to be confused with a 57 or 59, or a Plaza or a Savoy, This is the one. These Christines are getting quite hard to find in any condition and very expensive if you do find one. To put this car into perspective, there were 7 times as many 57 Chevy 2dhts built as 58 Plymouth 2dhts. This example is nearly rust free and nearly complete needing a complete restoration. It is now unloaded and up on the hoist and the underside is very very nice. The only rust is on the outer rocker panels and there are replacements with the car. The more I look this car over, the better it looks. The roof, both quarters and one door are original paint, striaght, and rust free. The trunk lid, drivers door and front end have been replaced with straight rust free parts from another car. The inside of the car and the trunk are packed full of parts that I am sorting through. There are multiples of everything. I also have all of the ultra rare clutch linkage for this car as i am just not an automatic trans kinda guy and there was a willing donor in the same pasture......... I am on the hunt for Hemi and a four speed........It now has a 392 Hemi sitting beside it that would be available to the buyer, still looking for that 4 speed........ $9,950

1964 Ford F-100 Shrtbed - 1964 Ford F100 Shortbed Fleetside 292 Y Block V-8 3 speed manual on the column, Just in from California, Nearly rust free California Black Plate truck, Runs and drives good, The only rust is in front of the cowl where leaves got trapped. It would not be difficult to repair, It is an otherwise rust free very straight original truck that has obviously had a gentle life out there in California. It wouldn't take much to make it a beautiful little truck. It is priced to sell at $6450. $6,450

1986 Tommy's Trailer Aluminum 48' - 1986 Tommy's 48' Aluminum Car Trailer. I bought this from a gentleman who had owned it since 1990 to go and get three cars in Western Nebraska. It has sat for the last eight years until I bought it and towed it 2504 miles to Western Nebraska, Loaded a 56 Studebaker, a 48 International and a 93 Silverado, then over to Iowa to spend Easter with Pa, and on back to Texas. It worked great and trouble free, save for one flat tire, I would love to keep it around, but it would probably be another year or two until I needed it again. If you are not familiar with Tommy's Aluminum Trailers, go to their website and check them out. They have a lifetime service agreement and are the best in the business. This is the best deal anywhere on an aluminum 3 car trailer of any kind, let alone a Tommy's Trailer. I can be reached at 512-784-3659 $7,950

1927 Chrysler Model 60 2 Door Sedan - 1927 Chrysler 2 Door Sedan, 318 V-8, Automatic transmission, Otherwise pretty much stock original. Runs and drives good, It was built about 15 years and stll looks good. It was not a high dollar professional restoration, but the car is quite presentable and unique, and 85 years old.........You could spend silly money on it modernizing it, or you could enjoy it just the way it is. It is a joy to drive and really needs nothing. You don't see many of these early Chryslers on the road today. This is a fun car with enough room to haul the whole family. 1927 was only the 3rd year for Chrysler cars. This Old Girl will be 100 years old in another 15 years. I have updated the front brakes to disk brakes, installed a new master cylinder and a rebuilt carb so now it really runs good, and stops good as well. You can drive this car anywhere. Too Late, It is SOLD and off to East Texas with David. He knew a deal when he saw one. But if you really want a 27 Chrysler, I still have the Roadster, some assembly required. $11,900

1998 Ford Louisville Louisville - 1998 Ford Louisville Single Axle Dump Truck, 3126 Cat Diesel, 5 speed and 2 speed, Air brakes, Ice Cold A/C, original paint, clean truck, I just drove this truck 1900 miles to get it home from California. It runs, rides, and drives great, and is ready to go to work. $14,900

1935 Ford Coupe Coupe - 1935 Ford 5 Window Coupe, 283 V-8 Chevy motor, 39 Ford transmission and rearend, original front suspension, wheels, etc. Actually a pretty original car besides the Chevy motor, and it is not buthered up so it wouldn't take much to put a flathead V-8 back in it if that was your thing. It does have hydraulic brakes, but the conversion could use a little finish work, whic is the first thing I will be doing to it. I just received this car from the family of the older gentleman that had owned it for years and haven't had time to sort it out yet. It runs good, front end seems tight, brakes need some attention,. The car was repainted some time ago, still looks good, It was a high quality paint job, still shines real nice but has some nicks and chips here and there. Tweed interior appears to be fairly new and looks good. It appears to be a good solid car that, like just about every old car that I buy, needs some little things cleaned up, and done right, like some wiring, although everything works, and the brake lines although it does stop , proper fasteners, etc, or in other words, redo a lot of what the previous people have done to the car, and it will be a nice driver, which is exactly what I am going to do just as soon as I finish putting the 4 speed overdrive in the 56, and the price will be going up accordingly, but until then, it is only $21,900, which is very likely the best deal you will find anywhere on a sharp looking running driving 35 Ford Coupe. Too late, and you really were too late on this one. It just goes to show how cheaply I sell these old cars. I sent this Coupe to an auction where it brought $27,250, and was purchased by a dealer to resell. After adding buyers premium, the dealer paid $29,430!! and you could have owned it for $21,900!!! Now pick out another one here and buy it before it's too late again. $21,900

1960 Chevrolet Impala 2dht - Original paint or possibly a very old lacquer repaint, I really can't tell. The jambs, trunk, etc is definately original, original interior, unmolested completely original 60 Impala 2dht 283 powerpack V-8, Automatic, original wheels and hubcaps in the trunk. Identical twin to the 60 Impala that I had in high school, (that I paid $20 for), only without the rust. It runs and drives better than excellent. Has a nice set of old American Torgue Thrust rims, but is now sporting some Corvette rally wheels as I really like driving this old girl and those 14" tires are very old and I have a set of Vette rally wheels with good tires. This car would be a prime candidate to restore partial or complete,or enjoy it just as it is, or I guess you could butcher it like has been done to so many of these beautiful Impalas. I also have a 348 and a 4 speed that would be a nice upgrade......That wouldn't be butchery would it?? You can restore them a hundred times, but they are only original once. My wife says I have to put a new interior in it before she will ride in it, so it might get a new original interior if I run out of things to do.

I recently, (9/13), drove this Impala on a 2,800 mile trip to the now famous Lambrecht Chevrolet Auction in Pearce Nebraska, (where it probably would have brought over $20k if it were in the auction), then over to visit Pa in Southwest Iowa, on out to Eastern Iowa to pick up some parts from Mike, and back to Texas via the Ozarks. It never missed a lick, I ran 70-75 most of the way, got between 15.5 and 17.3 mpg and it took less than a half quart of oil on the trip. This is a very nice running and driving Impala and is definately ready to drive anywhere. $14,900

1921 Dodge Touring Touring - 1921 Dodge Touring car. This car was parked in a barn in 1929 and there it sat until this spring when I lubed it up, put on a set of tires and few other minor items and took it for it's first drive in 84 years. I have since then relined the brakes and had the top replaced with a very professionaly installed very original top. It is a very original unmolested, unmodified car sporting its original paint, original leather seats, original everything. It has never been apart so would be a prime candidiate for a complete restoration, but I think that would be a shame to do to such an original car. You can restore them many times, but they are only original once. It runs and drives very nicely and is a blast to drive. It will idle down to about 200 rpm. If I lived somewhere other than the congested discourteous rude traffic capital of America, I would probably keep this one to give the grandkids rides in, but I would have to haul it somewhere to do that. You can only go up and down the driveway so many times........UPDATE Well, since escaping the concrete jungle and moving to the beautiful Texas Hill Country, this old girl gets a little more exercise. I took it to Johnson City for the 4th of July parade and had a total blast with my Son and Grandson tossing candy to the kiddos. It ran so good, I drove it the 12 miles home and it never missed a lick, at speeds approaching 40mph! so the price went up, and I don't care if I ever sell it..... $8,950

2000 Fleetwood American American Heritage - 2000 American Heritage Motor Home, The Flagship of the American Coach line. This 500 Horsepower Tag Axle coach is gorgeous, runs and drives perfect. It will take some time to describe the details of this rascal so I will have a go at it when I have more time. Call me if you just can't wait. I have had this coach for a few years and have taken a number of trips in this palace on wheels and it is THE way to travel. We took it to the Indy 500, had a blast and will have it there again next year if it is still here then. $59,900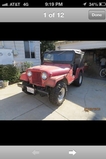 1963 Jeep CJ-5 - 1963 Willys Jeep, last year for Willys before AMC took over. Original red paint with a nice patina. Dauntless V-6, 3 speed, with a new rare and expensive Warn overdrive, so this Jeep will cruise down the highway at 70mph effortlessly. I bought this jeep in Southern California from the widow of a gentleman who had owned it for a long time and drove it regularly on and off road. the glove box is full of off road maps, bar of soap, toilet paper etc. It is a well cared for, well equipped jeep ready to go anywhere including down the highway, with the overdrive transmission, dual fuel tanks, 4 extra gas cans with a rack that goes on the back, new top, new tires, new clutch, rebuilt motor with performance upgrades, Saginaw steering box upgrade, towbar, etc. All gauges, lights, everything works as it should. If it were not for the time, and other commitments, shipping being so cheap, etc., I thought serious about driving this Jeep back to Texas from Southern California. It really does drive that good. I drove it across LA from Long beach to Fullerton 70 mph all the way. It is a blast to drive. If you are looking for a real Willys Jeep that you can get in and go, this is about as good as it gets. You can enjoy it just as it is, which is what I would do, or it would be a very easy restoration
Too Late! It is sold and off to Rock Springs Texas with James and Nancy. I am always on the prowl for old Jeeps and they never stay around here long so keep your good eye on the website for the next one. $4,950

1933 Plymouth pc Coupe - 1933 Plymouth HotRod 5 Window Suicide Door Coupe with an all steel original body. 350 Chevy V-8, Turbo 350 Auto Trans, narrowed rearend, huge rear tires, This is a fun good driving car, everything works, Lots of nice new parts, Nice wheels and tires, It could use a few things done a lttle better than what they are now, like a larger capacity fuel tank, rework the brake pedal, better exhaust, etc. I will start doing a few of these things as time permits, and the price will go up accordingly, Lotta car for not a lotta dough. $15,900

1952 Chevrolet Bel Air BelAir 2Door Hardtop - 1952 Chevrolet Bel Air Deluxe 2 Door Hardtop, This is a very nice Southern California car that was restored several years ago and has been very well cared for since and driven regularly. I bought the car in Long Beach California and drove it 1519 miles home to Austin. It was a fun trip, averaged 14.39 mpg, and got hundreds of thumbs up along the way and I would not hesitate to turn around and head back tomorrow. And I mean that because the weather is a lot nicer in Southern California than it is here right now. It is a very original unmolested car with an updated 1955 235 motor which is a much better motor than the original 52 235 as it has insert bearings. Fenton exhaust manifolds with new dual exhaust that sounds great. Has a nice cackle to it. It has the original Powerglide Automatic transmission which works well, the paint has a good shine, looks great but does have a few chips and imperfections, all of the chrome and stainless trim, and there is a lot of it, has been very professionally redone and looks excellent, the interior is very nicely done, the dash is beautiful, the original clock even works, but you have to remember to wind it! It has modern stereo in the glove box, amp in the trunk, no butchery to install it, sounds great, It had a set of NOS 1952 California license plates on it that do not go with the car but I will sell them separately. They have the original Folsom Prison Wrapper with them. This is beautiful car that is ready to be enjoyed and driven anywhere you want to go. $16,900

1957 Chevrolet Bel Air 2 DHT Sport Coupe Bel Air 2DHT - 57 Bel Air 2DHT, 350 4 speed, runs and drives great, a real blast to drive. it could use an interior and a few minor dents fixed or enjoy it just like it is as I have been doing. It is just a good ole solid hot rod 57 that you can drive anywhere. Too Late, It is sold and off to Louisiana with Gary. I hope he has as much fun with it as I did, but check with me if you are looking for a 57 Sport Coupe as they are a favorite of mine and I get them in regularly. $22,900

1929 Ford Model A Roadster - 1929 Ford Model A Roadster, unmodified solid good running and driving car. It was redone somewhere in its history and is showing some wear. could use a good polish. I drive it to lunch on most nice days. It is a great running and driving car. It is priced to sell and if it doesn't, I don't care because I enjoy driving it and I am finally located somewhere where I can without risking mine or the cars life. pictures soon, but hey it is a stock 29 Model A Roadster. $12,900

2009 Chevrolet HHR SS - 2009 HHR SS, loaded with every option, automatic, Sunroof, XM radio, One adult owner, ME. It has had a gentle and pampered life and no modifications, no chip, no paint work, bone stock original. The only thing not original is the tires. It has always been serviced regularly with Mobil 1. I bought this new for my now ex-wife's grocery getter and that is what it was used for. She had a Solstice roadster and a Solstice Coupe for daily drivers but you can't haul many groceries in them. I no longer have a wife, and Round Mountain has the best restaurant in Texas, maybe even the whole country, so I don't need to go get groceries, so somebody is going to get a really good deal on a really nice limited production factory hotrod. pictures coming, but you probably already know what a bone stock HHR SS looks like anyway. It is red with the solid black leather interior. I have the window sticker and all paperwork since new. $14,900

1932 Plymouth Other 3 Window Coupe - 1932 Plymouth PB Coupe, 350 V-8 Turbo 400 Automatic, A/C, Chrome Corvette rearend, Chrome Ford front axle, Halibrand Wheels, This is a well built well sorted car that has been driven over 20k miles since completion. It is a nice running and driving affordable real Hot Rod. It is a real steel 1932 Plymouth, no fiberglass kit car here. There were a dozen Fords built in 1932 for every one Plymouth, and probably even more "32 Fords" on the road today than in 1932.............It has nicks and chips, it could be cosmetically freshened up or simply enjoyed just as it is as I am doing. $24,900

1932 Plymouth PB DeLuxe Business Roadster PB Roadster - 1932 Plymouth PB Deluxe Business Roadster in Collegiate colors, A very solid never rusted car with nice paint, nice interior, chrome, nice everything, runs and drives excellent. This is 1 of 325 Plymouth PB Business Roadsters built in 1932. How many do you suppose have survived? The Business Roadster is the lowest PB production model as well as the most desirable model of the beautiful 32 Plymouth PB line. The 32 Plymouths looked like they had a Chopped top from the factory. They have a very low sleek roof line. They also had hydraulic brakes in 32. Plymouth was way ahead of their time. This beautiful Roadster is ready to enjoy. $36,900
1941 Chevrolet Coupe Deluxe Business Coupe - 1941 Chevrolet Deluxe Business Coupe Gasser built in 1969 and 1979 in Southern California. Black Plate car. Has all receipts from the build, Dual Quad Thunderbird 312 Y Block Motor, T10 4 Speed, Ford 9 inch rearend, ford econoline straight axle, Corvair bucket seats, This is as old school as old school gets, The 312 sounds VERY healthy, I am in the process of reconfiguring the seat/ gas pedal/ shifter arraignment as the builder was apparently different dimensions than I am. This car has remained untouched except maintenance items like brakes, carbs rebuilt, tires, etc since it was built. This is a way cool piece of American Racing History. It now has new drag slicks and little radials up front on old Fenton mag wheels. The throttle linkage and seat mounts have been reconfigured and it is now a fun to drive. This car has the patina that people try so hard to duplicate but never succeed at. UPDATE, The car has been sold locally, but the new owner opted to go with Chevrolet power so I still have the dual quad 312 and four speed available for sale until I find something to stuff them into................ $12,900

1964 Ford F-100 Custom Cab - 1964 Ford F100 Short bed Custom Cab, 292 V-8 3 Speed, Air Conditioning!, 88754 miles, Black Plate California Truck that I bought in San Jose and drove 1806 miles back to Texas without the slightest problem. This is an excellent running and driving truck, I had Leonard redo the seat, I converted the ac to R134 and recharged it, replaced an idler pulley bearing and installed a new belt, and I would be ready to head back to California in it tomorrow. If it sticks around long, it will likely get a few more upgrades as well. These 63/64 Shrtbed Custom Cab Trucks are getting harder and harder to find, especially rust free, unmolested original examples like this one. It now has a new set of aluminum wheels and white lettered Cobra radials and new drag link and drives even better. $11,900

1964 Ford F-100 Custom Cab Short bed - 1964 F100 Shortbed, Custom Cab, 2 owner truck with 91k miles. Original, unmolested truck. This is a beautiful truck, and the only one that I have come across in this great color. Leonard redid the seat in 57 Bel Air Tropical Turquoise material and it matches perfectly. I drive this truck more than anything else in the garage simply because it drives so nice. I originally thought that I would upgrade it to a 312 V-8, but the 6 cyl runs so good, it has become a not a very high priority. The interior and jambs are original paint, the exterior had a respray years ago and isn't perfect but it is so purty nobody notices........ You can drive this beauty anywhere. The price reflects the fact that I am not very enthused about selling this one........ $21,900

1951 Dodge Wayfarer Roadster Wayfarer Roadster - 1951 Dodge Wayfarer Sportabout Roadster, one of 1005 produced by Dodge in 1951. It has 41,123 original miles, runs and drives perfect. It has obviously has a gentle pampered life. This is a very nice rust free, original car that is a joy to drive. The paint is far from perfect but it still looks great. Too Late, SOLD< It is off to a collection in West Texas. $22,900

1926 Dodge Coupe Coupe - 1926 Dodge Coupe Hot Rod, built in the mountains of northern California years ago out of whatever was available by a very talented craftsman. it was a daily driver for years until being parked from 1983 until 2016 when it was woke up. It has been freshened up to drive, but remains as built years ago. The doors are homemade from parts from various other cars, and open, close and fit better than the originals would have, the hood and grill shell are handmade and fit perfectly, the top is from a 58 Ford station wagon, the trunklid is made from a Ford station wagon tailgate, the left front fender is handmade from and old refrigerator. It has a 1950 Dodge truck 6 cylinder and truck 4 speed trans, 9" Ford rearend, the list goes on. It could be made into a very nice car without a lot of effort or expense, but I think it is perfect just the way it is and would not change a thing, except maybe an old Hemi........I love this old girl and have it way overpriced at $14,900, but it will not get any cheaper.............. $14,900

1932 Plymouth - 1932 Plymouth PB 4 Door Sedan, 100% original, original paint, original interior, this car very likely has every nut and bolt it left the factory with. It is the most original 32 PB that I have had. It runs and drives, but should have the brakes gone through before any serious driving as it has not been driven much in recent years. I have not found any rust issues on the car. I have polished it up a little but hope to find time to give it the serious detailing that it deserves. The original paint shines up nicely but is far from perfect with plenty of blemishes, or patina, I guess is the word of the week for that. As always, call me for an honest description. $6,900

1986 John Deere 2750 - 1986 John Deere 2750 4 wheel drive tractor with 158 loader, cab, cold a/c, heat, stereo, runs and operates as it should freshly serviced ready to go to work. I bought this to use around the ranch, but it is too tall to get under the trees so it really limits what I can use it for. Danged trees. $17,900
2008 ASV RC100 - 2008 ASV RC100 track loader with forestry package and Fecon Mulching head, I bought this from the original owner with 800 hours on it. I have put another 30 or 40 on it mulching brush on my ranch. It operates as it should, cold a/c, freshly serviced, ready to work $39,900

2000 Econoline Backhoe Pro - 2000 Econoline Backhoe Pro, 24k trailer in excellent shape. I bought this trailer from Gillespie County, Texas, who bought it new, but shortly thereafter decided it was big enough for there needs and bought a larger trailer so used it very little. It is ready to go to work, tires are good but old. If you were going long distance a set of tires would not be a bad idea. I just use it going 2 miles from the farm to the ranch. I can put a new set of quality tires on it for about $600. $8,950

1984 Chris Craft Stinger 312 - 1984 Chris Craft Stinger 312 with twin 330 Mercruisers and TRS drives, while maybe not the fastest power package, it is definitely a bulletproof combination and amazingly fuel efficient. I traded for this boat in about 1993. I enjoyed this boat on Lake Travis for several years until I sold it to a good friend of mine who used it very little over the last 20 or so years. he is in the process of moving off the lake so no longer had a place to store it, so it fell back into my hands. This is an awesome classic go fast boat that is very original and rock solid, but could use a little love, serviced, and cockpit upholstery, which I will give it if it is still here next spring, but my list of projects seems to grow faster than a stolen Viper, and I seem to get them done about as fast as a high mileage Yugo with 2 dead holes....... just to put things into perspective. Of all of the boats that I have owned over the years, this was always one of my all time favorites. The Chris Craft Stingers are some well built, beautiful boats with great lines, and 32' is a nice size, not too big and not too small. It is on a triple axle aluminum trailer that will get it where you need to go. SOLD, And It is off to Tennessee. $9,500

1940 Dodge VF-404 4X4 Dump Truck - 1940 Dodge Model VF-404 factory 4 wheel drive dump truck with 44k miles. I have read that there were 1956 of these factory 4 wheel drive trucks built, but I have not verified it. I know this is the first one that I have ever come across. It Runs and drives like a 1940 4 wheel drive dump truck should. I drove it to dinner just the other night. I have since rebuilt the carburetor and it is even happier now. It has a very old brush on orange paint job over the original army green paint that has a finish and patina that would be a challenge for even Noah to match. I have dosed some of it with WD 40 and it really brings it back to life. The inside is still the original Army green paint. It will soon have a new leather seat as soon as I can remember where I put my hides in the move and can get Leonard on it. It has no evidence of ever having had a snowplow attached. This truck is in amazing condition, everything is tight and not worn out, All of the gearboxes were near full with clean oil, it even has the really rare lockout hubs. The dump bed works fine, all the lights, horn, work, I would drive this truck anywhere, as long as I was not in a big hurry, and could avoid the freeways, but then I am not your average truck driver......... I will be taking it to the ranch real soon to put it to work just for fun and see if I can find something that it cant climb, and I will take some in action pictures. If you just cant wait and gotta have it, call me at 512-784-3659. Too Late!! This Old Girl is heading across the pond to the Thickthorn Farm in the UK just as soon as we find a cruise line with comfortable accommodations for her. She will be missed, but I still have that 57 International 6X6............... $12,900

1964 Chevrolet Impala SS 409 - 64 Impala SS Dual Quad 425 Horsepower 409 4 speed, bucket seats, power steering, runs and drives excellent, just got it in pictures coming soon $29,900

1957 International 4x4 - 1957 International Factory All Wheel Drive Cab and Chassis, All 4 wheel drive parts are there and in good condition, The cab has very little rust. there is no bed, motor is probably stuck, It has the divorced transfer case so it would be easy to put any motor and trans in it. It has the hard to find 22.5 wheels and all the tires hold air. The list of fun things that could be done with this truck are endless. It could be a 6X6 TowMater.......... $2,295
1967 Chevrolet Camaro SS Clone - This a 1967 Camaro that had a complete nut and bolt restoration in 2010. The car is a very clean dependable driver that has less than 5k miles since the restoration. This not a numbers matching car. It is a base model V-8 Camaro that has many up grades to improve its performance. The drive train is updated with a 454ci with mild cam, carb & Heandman HPC coated headers. Runs real strong with plenty of power with out the constant need for maintenance. Power is handled by a Muncie M21 4 speed with a Hurst shifter pushed into a Ford 9" disc brake differential fitted with a posi 342 gear set. Putting all that horse power the the black top is done by 17" Coy aluminum mags wrapped in fresh rubber.
Driver enhanced comforts includes a Vintage heat & A/C unit. Power steering and power 4 wheel disc brakes for those quick stops.
The Camaro has exceptional paint and body done in top quality paint products. The finish is slick inside and out.
Interior is a factory correct black stock interior. It has been upgraded with a in-dash factory tachometer and a floor console fitted with factory 4 pod gauge cluster.
If your looking for that classic muscle car to have some fun in and turn heads then this is the car for you. This First year Camaro is a sound investment and will always be strong contender in the antique muscle market for the years to come. It takes lots a pain staking time,efforts and money to build a car like this. Over 50k invested in this project. So take advantage while you can at the asking price of 35k.
I m listing this for a friend of mine so Contact Noah at :
Revival Rods & Customs
Noah.voodoo@gmail.com
512-577-2649 $35,000

1964 Ford Falcon Sprint V8 4Spd. - 1964 Falcon Sprint 2 Door Hardtop, original 260 V8 4 Speed, original shifter, original interior, a very original, very complete car that needs restoration, or at least some brake work and a few other repairs. Motor runs great, it has an Edelbrock manifold and carb and headers, otherwise stock with original valve covers and air cleaner. It needs a few rust repairs but it is not a rusty car, the worst being the drivers floor pan and some rust from the vynal top. It was origionaly Wimbeldon White with a Factory White Vynal Top and Black Bucket Seat interior, which is an awesome color combination for this car. I have had a number of these Falcon Sprints, and they are getting harder and harder to find that aren't all molested. This could be a very nice car without spending a ton of money to get it there. It has some extra parts with it like a new dash pad, radio bezel, etc. Priced to sell at $5900. $5,900

1932 Plymouth Other PB Deluxe Business Coupe - complete original nearly rust free straight 32 Plymouth PB Business Coupe that dang near runs!. In my opinion, a 32 Plymouth PB is far more beautiful than a 32 Ford, not to mention there were 8 Fords made for every one Plymouth, not to mention there are probably more "32" Fords on the road today than there was in 1932. If this car were just another Ford in this original condition, it would be $40k plus. That makes it a bargain for $22,500, and it isn't going to get any cheaper, and you can stand out from the herd. . $22,500

1936 Dodge 2 Ton Truck 2 Ton Truck - 1936 Dodge 2 Ton Truck, Original paint, solid straight Project truck. This is about as nice of a 1936 2 ton project truck as you will come across. The possibilities for it are endless and limited only by your imagination. $4,900

1939 Chevrolet Deluxe - 1939 Chevrolet 4 Door Sedan, 2 1/2" Chopped Top, 355 ZZ4 with a 700R4 Overdrive Automatic, New Edelbrock Electronic Fuel Injection, Ice Cold A/C, New Stereo9 with Back up Camera, power seats, This is a nicely done car that unfortunately had a little run in with a tree and now needs a right front fender and frame repair or re-subframed. It has an S10 subframe now. It is drivable around the yard and onto a trailer but not roadworthy as the front end is out of alignment due to the frame damage. This is a great project for someone with the ability to replace the subframe or straighten the existing frame. SOLD, It is off to Dallas with Larry who is going to give it the love it so needs and deserves. $10,900


1985 Toyota Pickup 4X4 - 1985 Toyota 4wd long bed, 5 spd cold a/c, All Original, I have owned this truck for 24 years since it had 167k miles. It now has somewhere around 240k. I added genuine Toyota R134 A/C which blows cold. You can't tell it is not factory air. It has been an awesome truck I just don't need it anymore and I don't use it, but hate to part with it as it has been such a good truck. I would personally deliver this truck to anywhere on the continent including Alaska, (May through Sept) for gas and a return ticket home, heck I would even deliver it to Tierra del Fuego, and would love to actually......... It has some rust in the bed and I just noticed it has some small spots starting to rust around the windshield, nothing terminal, it is not a rusty truck and is still sporting all of it's original red paint, so it has no surprises. Too late, it is sold and off to Honduras. and I hope they take that no rock laying Salvadore with them.............. $3,950

1937 Ford Convertible Sedan - 1937 Ford Convertible Sedan, This is a very high end build of a rare and desirable car. There were only 4378 Ford Convertible Sedans built in 1937. This car has been tastefully modified to comfortably drive and enjoy, and has room to take the whole family in style. Call for details as this car has many many details

SOLD! It is off with Mike, who knew a deal when he saw one. $59,995

1949 Other Other DeSoto Convertible - 1949 Desoto Convertible, all original including paint and interior. One family owned California car bought new in Turlock California where if has been for 70 years until last week when I flew out and drove Ole Hernando 1675 miles back to Round Mountain Texas. It runs and drives amazing and is ready to drive anywhere. This car has no excuses and no surprises and is a joy to drive. There were only 3385 Desoto Convertibles built in 1949. This is likely the best one left in existence. It could use new carpet and some upholstery work, which I am hesitant to do as it is totally original, $19,500
2004 Chevrolet Silverado LT - 2004 Chevrolet Extended Cab Duramax Diesel, 4X4, One Owner, Bought new at Covert Chevrolet in Austin by a friend of mine, well maintained Texas truck with no rust, no accidents, original paint, heated power leather seats, XM radio, Onstar, power everything, very good tires, It has a a few minor dings, dents, and scratches, could use a new headliner, buff and polish, The truck has 230k miles but I replaced the gauge cluster last week with a 40k one as a couple of gauges were working intermittently. The original gauge cluster comes with it. This is a good well maintained truck ready to go for a good price $9,450
1990 Plymouth Grand Voyager - 1990 Plymouth Grand Voyager, same as Dodge Caravan, 83,469 miles, Cold A/C, new tires, new struts, new CV axles, runs and drives excellent, 2 owner Texas car with no rust issues, clean interior, fresh Texas inspection ready to drive anywhere. It does have paint falling off in a lot of spots. This is a really good cheap low mileage van that has a lot of life left in it. She just isn't real purty........ Where can you buy an 83k mile clean mini van with cold a/c for this price???? $1,550

1914 Ford Model T - This is an excellent running and driving 1914 Ford Model T Roadster from the Dick Burdick Museum. His cars are always top notch. This car is ready to drive. I drove it 8 miles yesterday. $13,900